EVA Park overall winner at Made@City 2014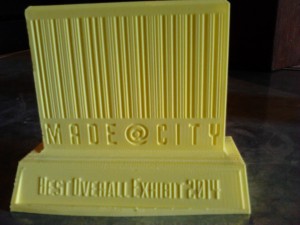 EVA Park, represented by Tracey Booth and Abi Roper, came away from Made@City 2014 clutching the overall winner prize.
Made@City is an annual event that showcases the very best work from Computer Science students and research projects at City University London. This year's event was held on the 17th June in Shoreditch Village Hall as part of London Technology Week.
Read more at http://www.city.ac.uk/news/2014/jun/made@city-creates-a-buzz-during-london-technology-week and listen to Tracey's explanation of what it's all about at https://soundcloud.com/c21media/tracy-booth.