EVA Park Open Day for SLTs, November 2015
Wednesday 25th November 2015: 1:30pm – 4pm
City University London, Room ELG10, Drysdale Building (lower ground floor)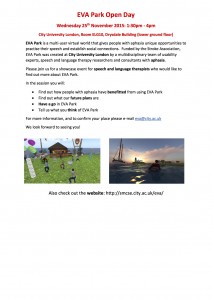 EVA Park is a multi-user virtual world that gives people with aphasia unique opportunities to practise their speech and establish social connections. Funded by the Stroke Association, EVA Park was created at City University London by a multidisciplinary team of usability experts, speech and language therapy researchers and consultants with aphasia.
This event is for speech and language therapists who would like to find out more about EVA Park.  You will:
• Find out how people with aphasia have benefitted from using EVA Park
• Find out what our future plans are
• Have a go in EVA Park
• Tell us what you think of EVA Park
There is no charge for attending but places are limited and must be reserved in advance: e-mail eva@city.ac.uk to guarantee your place. We look forward to seeing you!
Download the EVA Park SLT Open Day flyer